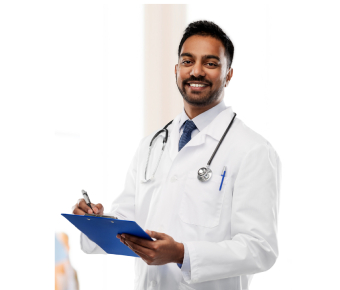 About Dr. Anurag Sharma, B.Pharm
Dr. Anurag Sharma, B. Pharma, is our Healthcare ambassador at CompleteOnlinePharmacy. He has a sound understanding of the field of medicine and drugs and is also one of our foremost consultants in drug usage and administration of medication. Dr. Sharma has authority in dispensing prescriptions to patients as directed by the physician's orders, with excellent knowledge about drugs, their interactions with the body, and how patients must use them to achieve the best possible results. CompleteOnlinePharmacy shares this passion with him to ensure that your healthcare funds go as far as possible. Together, we work towards ensuring the affordability of prescription and over-the-counter drugs.
Work Experience
Dr. Anurag Sharma has a BSc. Pharmacy, making him qualified enough to educate and inform the public about wellness and health. Dr. Sharma has 10+ years of clinic and pharmacy experience, making him our best consultant to ensure your prescription is accurate. He has worked for some of the leading pharmaceutical companies in the country. In addition to advising many as an independent consultant regarding drug manufacturing, usage, and administration, he is also exceptional at dispensing prescriptions to patients reaching out for help and consultations regularly. 
Education and Training
Dr. Sharma finished his Bachelor of Pharma with top honors and followed his academic achievements with memorable stints with some of the country's most highly reputed pharmaceutical companies. His journey as an independent consultant has been incredible, with his consultations being highly sought by every big pharma company across the country. 
Awards
Dr. Sharma's contributions in the field of medicines and drugs have been appreciated at the highest level, his name being nominated in the PF Awards (UK), Pharmaceutical Executive APEX Awards, and CPhi Pharma Awards (Europe), to mention a few. 
Specialty Interest
As mentioned above, Dr. Sharma's area of expertise lies in drug manufacturing, testing, usage, and administration. He advises and consults on drug consumption, its usage, and in dispensing prescriptions.
Research Papers and Publications
Dr. Sharma regularly contributes to leading pharmaceutical journals and shares his views on the current state of the pharma industry and emerging drugs and their usage.
Dr. Anurag Sharma is licensed to practice medicine, including fulfilling prescriptions online. He has created a solid relationship with our CompleteOnlinePharmacy team to ensure efficient and commendable customer service. These efforts helped him evolve to become a better healthcare advocate. His understanding personality and splendid knowledge of medicine make it easy for patients to ask questions without hesitating.
We encourage you to seek Dr. Anurag Sharma's views concerning health matters, medications, and prescriptions by emailing at orders@completeonlinepharmacy.com  – Ask Dr. Anurag Sharma. You can reach out to him if you have a topic or article that may need his guidance, and we can together deliver it to the public through our website. Our editorial team will work hand in hand with our doctor to ensure the content is up to medical standards.
 
LinkedIn Profile : Dr. Anurag Sharma (B. Pharma)